[The intestinal parasites in the food handlers of Tunis area: study of 8502 stool samples (1998-2008)].
Les parasites intestinaux chez les manipulateurs de denrées alimentaires de la région de Tunis : étude de 8502 prélèvements de selles (1998-2008)
The food handlers control is one of the major measures of the National program against intestinal parasitoses in Tunisia. The collected data allow regular updates of the prevalence and profile of the involved parasitic species and note possible evolutions in time. From 1998 to 2008, 8502 stool samples of food handlers working in Tunis area were examined in the laboratory of Parasitology, Pasteur Institute of Tunis. The mean prevalence of intestinal parasites was 13.5% (1152 positive samples). The protozoa were the most detected parasites (93% of the species observed). Among the pathogenic or potentially pathogenic parasites, Dientamoeba fragilis (15.5%) and Giardia intestinalis (7.6%) were the most frequently encountered. Entamoeba (E.) histolytica/dispar was diagnosed in 41 subjects (a prevalence of 05%). Hymenolepis nana was the most frequent helminth (45% of the whole parasites). Therapeutic failures were noticed in 43.8% of infection by this cestode because of the lack of the appropriate antihelminthic. The identification using PCR of cysts and/or vegetative forms of E. histolytica/dispar revealed the exclusive presence of E. dispar.
Le programme de surveillance des manipulateurs de denrées alimentaires (MDA) représente une des mesures de base de la prévention des parasitoses intestinales en Tunisie. Les données qui en sont issues permettent d'actualiser régulièrement la prévalence et le profil des espèces parasitaires impliquées et d'en noter d'éventuelles évolutions dans le temps. De 1998 à 2008, 8502 prélèvements de selles provenant de MDA exerçant dans la région de Tunis ont été examinés au service de Parasitologie de l'Institut Pasteur de Tunis. Mille cent cinquante deux prélèvements se sont révélés positifs soit une prévalence globale de 13,5%. Les protozoaires ont été les plus rencontrés (93% des parasites observés). Parmi les espèces pathogènes ou potentiellement pathogènes, Dientamoeba fragilis (15,5%) et Giardia (E.) intestinalis (7,6%) ont été les plus retrouvées. Entamoeba histolytica/dispar n'a été noté que chez 41 sujets soit une prévalence de 0,5%. Hymenolepis nana a été l'helminthe le plus rencontré (4,5% de l'ensemble des parasites). Des échecs thérapeutiques ont été constatés avec ce cestode (43,8%) en raison de la non disponibilité des molécules appropriées. L'identification par PCR des kystes et/ou formes végétatives d'E. histolytica/dispar a révélé la présence exclusive d'E. dispar.
Fichier principal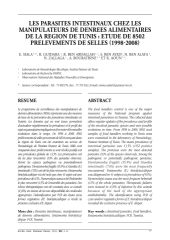 E.Siala_et_coll.pdf (297 Ko)
Télécharger le fichier
Origin : Explicit agreement for this submission